The Lost Spot
Ducky's Flying Lesson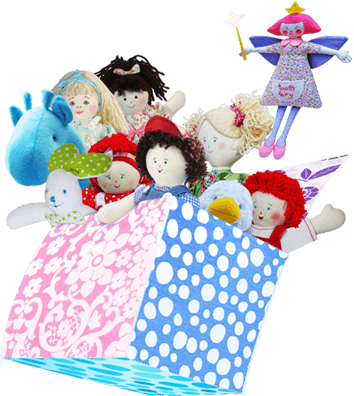 Australia's Favourite Collectable Cloth Dolls
Founded in 1978 with a passion for delivering fantastic children's giftware, Kate Finn continues to provide highly sought after items each year. Building an ever-lasting and constantly changing collection of children's products has led to a large following of collectors and appreciators alike. Through over 35 years of experience in creating these stunning collectible cloth dolls and more, Kate Finn has developed a reputation as one of Australia's most famous doll creators.
Through years of creation, the quality of each rag doll or golliwog has reached new heights. With the ability to machine wash the dolls clothes as well as gently wash some of the bodies, these items now survive even longer than ever before. Choosing an item from the Kate Finn collection not only allows you the chance to share a part of Australian doll history, but also provides you with a fantastic heirloom to pass on to your children.
Cloth Dolls, Porcelain Collectible, Golliwogs and Soft Toys
Over the years the Kate Finn collection has extended beyond the original cloth dolls. Golliwogs are one of the most iconic doll styles recognised around the world. Designed to be soft and cuddly as well as capturing the essence of original golliwog designs, the Kate Finn options are ideal for collectors and children. Each face is individually sewn on, increasing their uniqueness and adding to their collectible nature.
Porcelain dolls by Pauline are some of the most famous porcelain collections the world and Australia has ever seen. Kate Finn offers these Limited Edition items for sale from her own personal collection. As these are from a personal selection, there is only one doll available of each type displayed. Browse the selection and purchase a piece of history for your home.
The rag dolls on offer are of completely heirloom quality. Stitched to perfection and designed with soft, long-lasting materials, these items are created with children in mind. The soft and inviting texture of these cloth dolls promotes play and allows children to do so without fear of injury.
There is a range of baby soft toys which are ideal for your new little ones. Soft materials, delicate silk ribbons and even noise making bells are all included to create a perfect toy for your baby. Promoting safe play and curiosity, these items are ideal for your grandchildren or children as their very first toy.
Machine Washable
It is no secret that children can be messy and dirty, the developments in how these dolls are created has allowed for them and their clothing to be machine washable. While great care must still be taken, these dolls are able to be cleaned to help preserve their original state.
All of our porcelain, golliwogs and cloth dolls are available in Australia. Our online store allows you to browse and select any item for your collection. Add a cloth doll from our collection to yours today. Email us at order@katefinn.com.au to find out more about any of our stunning products.